CABEZA PATATA: 
EXAGGERATING CHARACTERS WITHOUT PUSHING STEREOTYPES
Cabeza Patata, the illustration and animation studio formed by English craftswoman and illustrator, Katie Menzies, and Spanish 3D artist and animator, Abel Reverter, are building a world of strong but playful characters that pop up everywhere with their bold colors and tough attitudes.
We talked with them about their first steps as a collective/duo, how 3D character design is still subject to weird gender issues, and why it makes more sense to acknowledge being part of a larger trend than pursuing the myth of the genius in the bubble.
Pictoplasma: How did the two of you meet?
Katie Menzies: It was during a short course on graphic design for beginners at Central Saint Martins Art School in London. I was still studying French and politics, but dreaming of a career in arts or design.
Abel Reverter: I had just started working as video editor in a production company, but I'd always been more interested in illustration and graphics. So I started moving into motion graphics and the company invited me to take part in this course to hone my design skills. To be honest, at that time I barely knew the basics.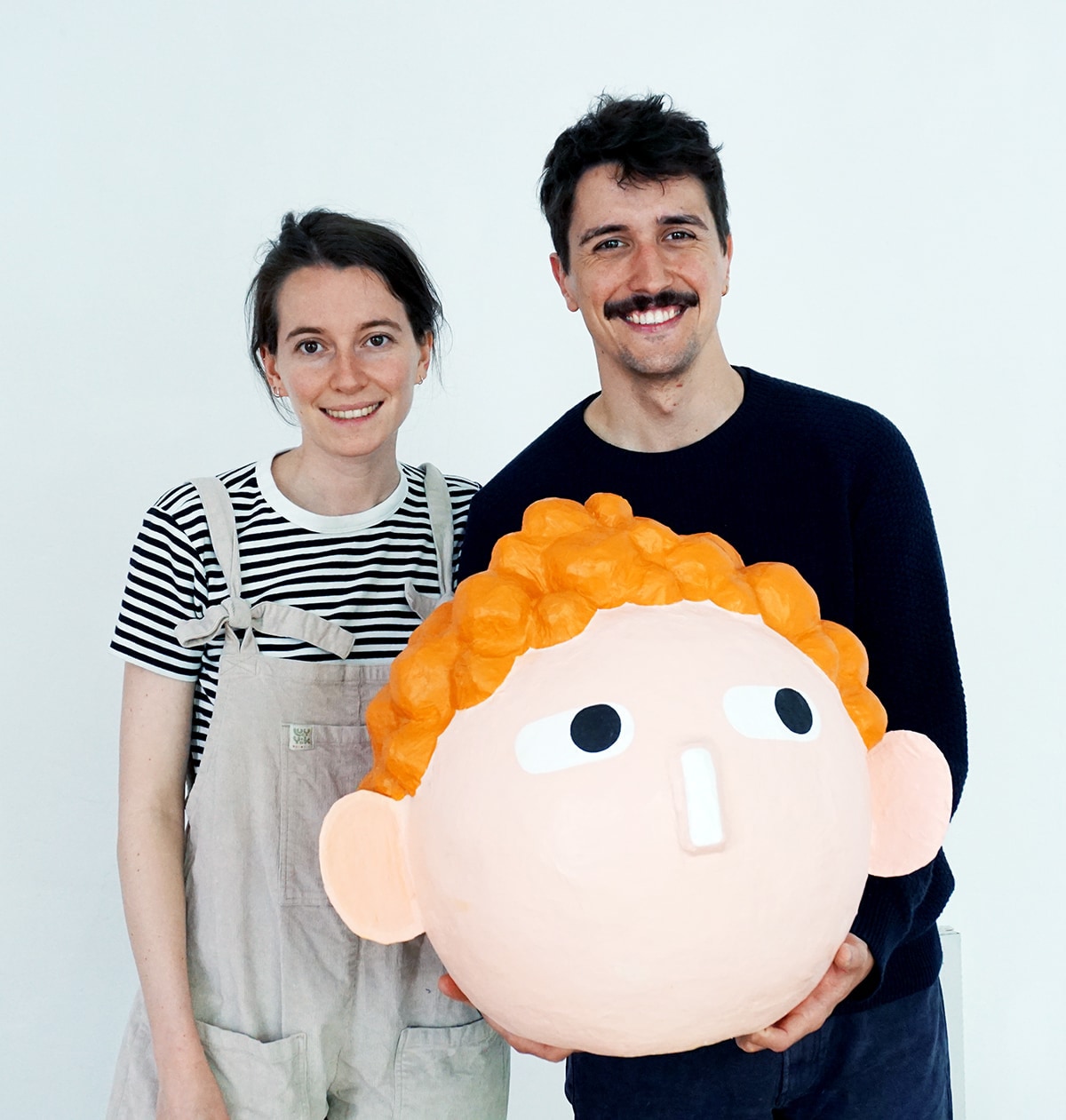 Katie: Afterwards, I carried on studying French and politics, until we both moved to Barcelona two years ago where I started studying illustration.
Abel: While I was freelancing.
Katie: And then last year, it suddenly felt like the right time to found a studio: I was about to finish my studies, I had a more defined style and was eager to take it somewhere. And Abel was beginning to experiment with things.
Abel: Yes, I was starting to feel a bit frustrated with freelance life, always having to adapt to whatever was required. The good thing was that it forced me to learn a lot of different tools, but I wasn't getting anywhere I wanted, and it felt like I couldn't develop my own style.
 

"Our characters all have more or less the same proportions, which is probably why you often can't tell if you are looking at a woman or a man."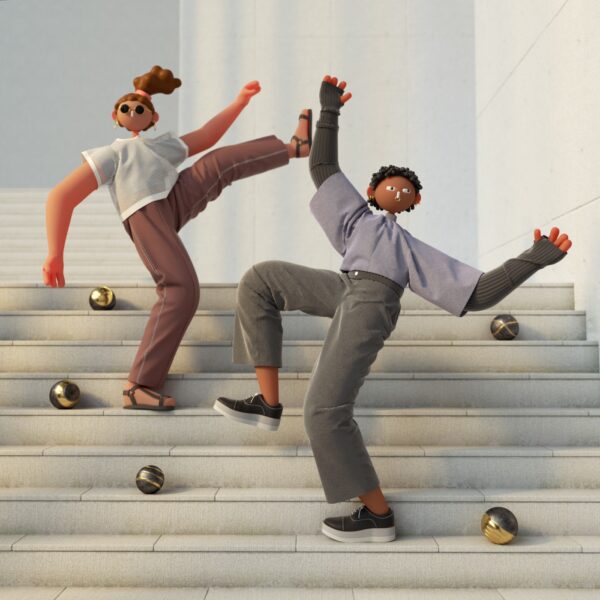 In the meantime you have made quite an impact with exactly that: a recognizable, specific style—often depicting gender-neutral yet diverse characters with chunky bodies and tiny lollypop-heads.
Katie: Our characters all have more or less the same proportions, which is probably why you often can't tell if you are looking at a woman or a man. When we show our work, people often ask, 'Which one's the woman?' But does it really matter?
Abel: Traditionally, animation and illustration generally portray women as very thin and fragile, while men are solid and strong. We like to explore possibilities of exaggerating characters without pushing those stereotypes.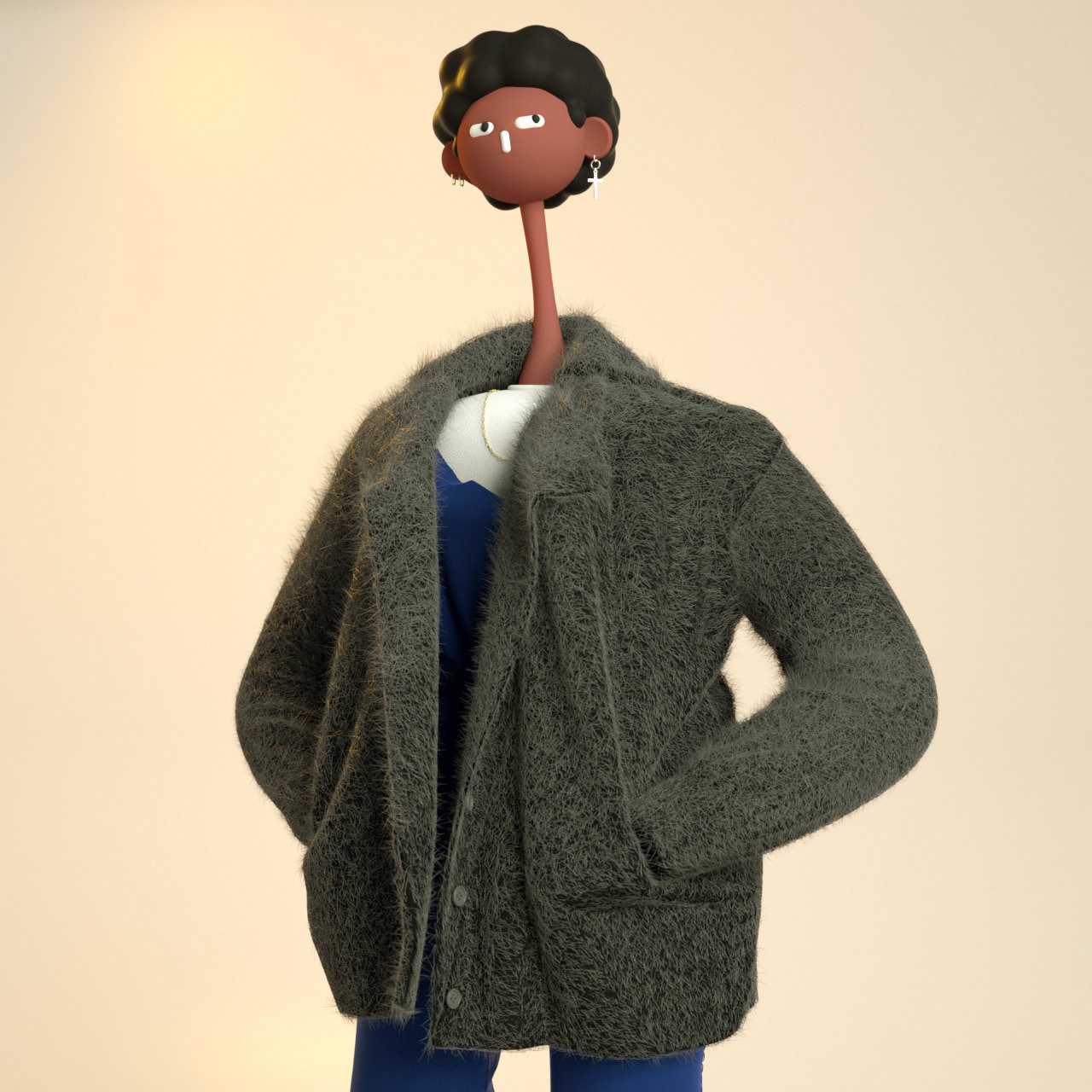 In an interview you once said that gender issues haven't really been explored much in 3D illustration yet. Is that because 3D is a man's world?
Abel: I guess so. The reason today's 3D scene—and CGI in general—are still so male dominated seems to be rooted in many things that occurred in our childhood. For example, like many boys my age, I grew up playing a lot of video games. Katie didn't, mainly because it was not considered gender-appropriate back then.
Right at the beginning of our collaboration, Katie was doing the sketches and I was modeling her stuff in 3D. But then, as the projects started growing, it no longer made sense to divide the workflow. So I started getting more into drawing and Katie started getting more into 3D. Today, even though Katie enjoys technology as much as I do, and is just as much part of the 3D creation as I am, it's been a different journey for her.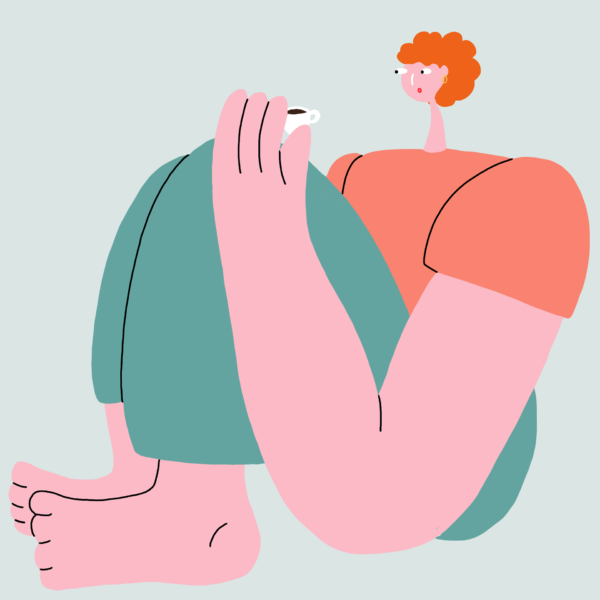 "Now that technology is becoming more accessible, hopefully more women entering the industry will change the way things look."

 
Katie: I agree. But also the fact that the entire industry is still so male dominated isn't helping to make it more attractive to women. When we show a piece of work we've done, the client will mostly talk directly to Abel, although I'm standing right there and have played an equal part in the process. 'What program do you use,' is a question only Abel gets asked. But it's really what program do we use.
Abel: People always assume that I'm the creative, and you're in production…
Katie: Exactly.
Abel: …which has traditionally been women's domain in the industry. Even today, when you visit a big studio or agency, you might see a lot of women, but most of them are in production. Right now we're on a big 3D project which required us to expand our team, and most of the people we hired are women. We did it consciously, and I think we'll get a much more rounded result in the end.
Katie: We were actually talking about this the other day while scrolling through Instagram and looking at young 3D artists at the beginning of their career. Many of them have simply downloaded a standard 3D model of a naked woman, given it a glossy silver texture, and placed it in a field of smoke. I'm sure you wouldn't see this as often if there were more women in 3D. Now that technology is becoming more accessible, hopefully more women entering the industry will change the way things look.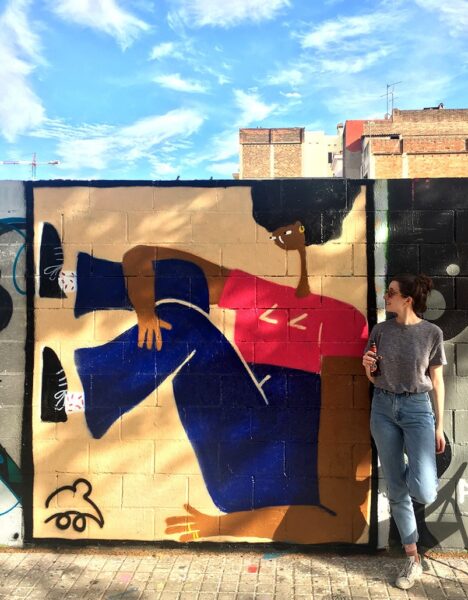 Women's rights and female empowerment is a recurring theme in nearly all of your projects.
Katie: Well, in the beginning we didn't really sit down to discuss what we wanted our work to focus on. We simply started producing images. It just happened that I was quite focused on drawing women, mainly because I didn't get to see many pictures of women doing something other than stereotypical things. Somehow our first series of images turned out to be only women—and in fact, the first time we drew a man and showed it around in the studio, people went, 'Oh, great! You've finally created a man!' No one would have made that comment had it been the other way around.
Abel: I mean, we met six years ago, and since then Katie has opened my eyes to so many gender stereotypes! Now, when I see a movie I last watched six years back, it often makes me cringe—even though I still enjoy bits of it.
Katie: You encounter so many micro aggressions in everyday life as a woman, or if you happen to be of a different ethnicity, or have any sort of disability. Those are topics we like to visually represent.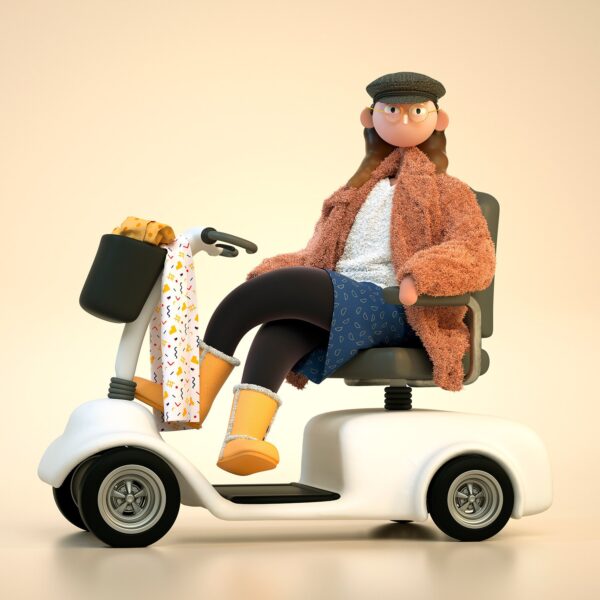 On your website you say that you're open for any kind of collaboration—whether it's with students or Mark Zuckerberg. Is there anyone you wouldn't want to collaborate with?
Abel: Well, we do have conditions. For example, we don't like it when agencies approach us after pitching our work to a client without our consent. Sometimes they've already made a big document selling the pitch and then say, 'This is what we want, stick with it, can you start next week?' We prefer to have a bit more control over what we're doing.
Katie: Also when they say, 'We need to wrap this project within a month—it's going to be three one-minute videos!' That's not possible. We can't produce the quality that we want in that time. We need a while to develop the characters before we can even think about animation.
 

"I think it makes total sense to realize and embrace that we're all also part of a larger trend and hardly anyone creates things in a bubble."

 
Your website documents all the different stages your work goes through before completion. How important is it for you to share your process and possibly enable the next generation to learn from your experiences?
Abel: This is something we talk about a lot. We want to be really open and encourage others to create. When we first started out, people were not always very welcoming. We hated that feeling, people saying…
Katie: …'What are you doing here? This is a closed club!'
Abel: Some people can get very aggressive when you're a newcomer, trying your best. But it's normal for a student to have maybe five artists whose style they adore, and starting out by imitating them. It takes time and experience before you can do work that's more personal and unique. Also, with a little distance, looking back on the stuff that was produced in the '90s, say, you'll see that there were common trends. I think it makes total sense to realize and embrace that we're all also part of a larger trend and hardly anyone creates things in a bubble. So we decided to be open, show our process, and not try to make things look too technical.
Katie: It may look like we're using really complex programs, but actually we only learned five tools and are using them over and over.
Abel: Operating a washing machine is more difficult than the programs we use. I mean kids nowadays play video games that have like a million menus!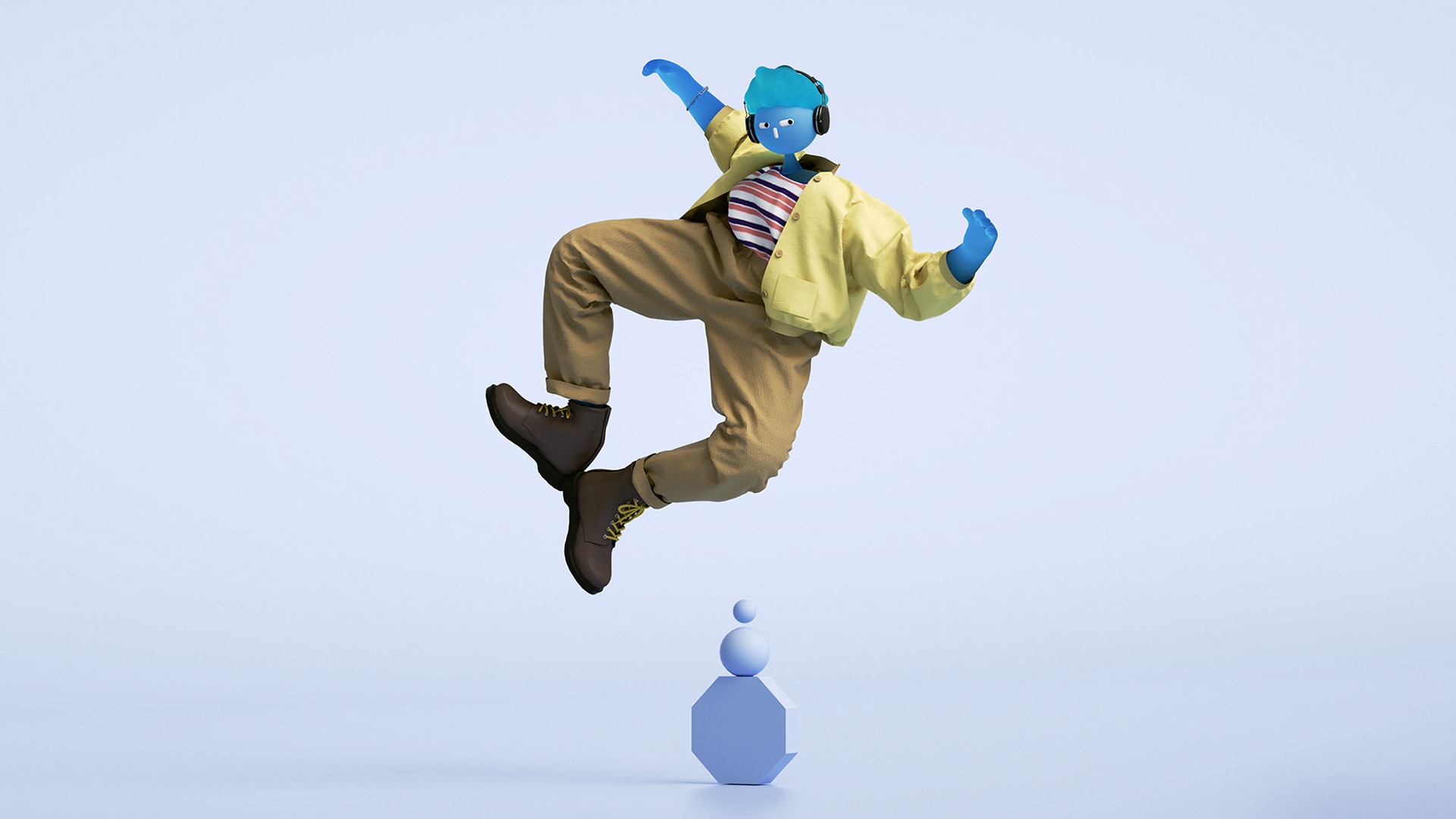 Interview by Elise Graton on the occasion of the 15th anniversary edition of Pictoplasma Berlin, 2019 
Since its inception in 1999, Pictoplasma serves as a unique forum for a growing international scene of artists, theorists and creatives, redefining the boundaries of contemporary character representation. The main focus of the project remains firmly on the emphatic quality of images to create a direct emotional bond with the viewer, communicate globally and push anthropomorphic appeal to new limits. THE CHARACTER FILES gather thoughts, texts, essays, interviews and case studies of Pictoplasma's ongoing research – in no particular order –  while it closely accompanies the scene as it moves towards a completely new understanding of character…
…SO LET'S TALK CHARACTER!