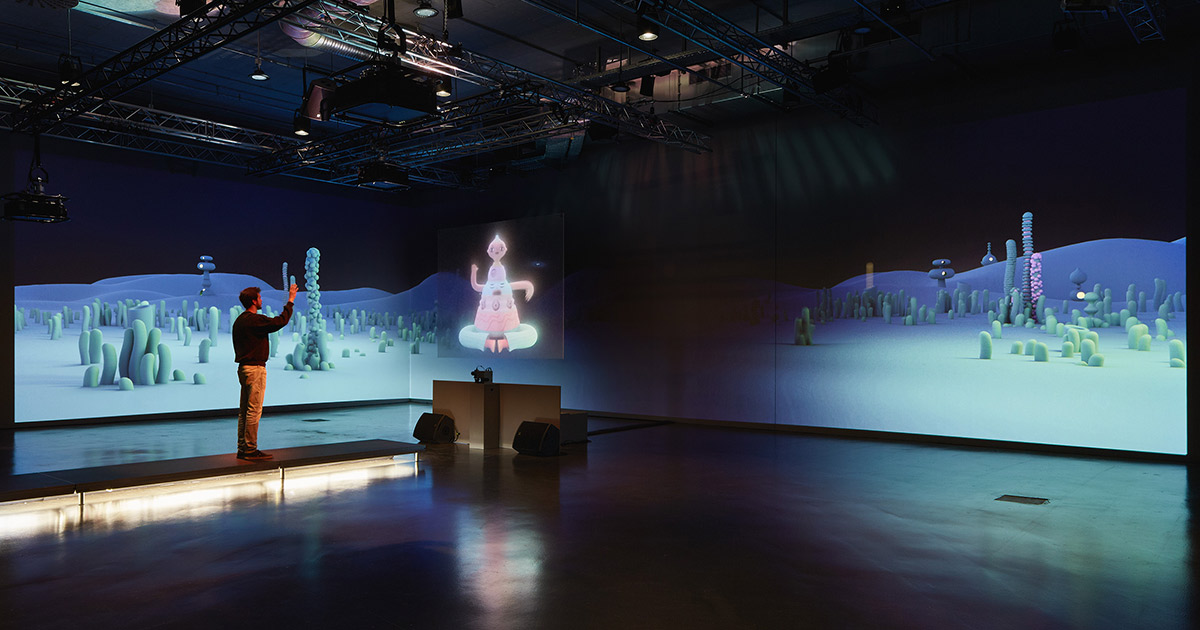 Interactive Media Installation at Pictoplasma Berlin 2019
Pictoplasma is the world's leading platform for contemporary character design and art. The project pushes forward interdisciplinary discussion, development and promotion of a new breed of visual vocabulary—from illustration to animation, game to interactive design, urban to graphic arts. 
The brainchild of Peter Thaler and Lars Denicke was founded in 1999 to investigate possibilities and limitations of current character representation. Pictoplasma holds an annual festival and conference in Berlin, a second conference in New York, offers programs for further education, undertakes research into anthropomorphic design, curates museum exhibitions, and consults brands and companies. The focus is on how reduced and minimalist design can evoke maximal empathy—and help create meaningful interaction beyond the constrictions of narration.
Sophia Jansson at Pictoplasma Berlin 2018
PICTOPLASMA
CONFERENCE & FESTIVAL 
BERLIN
Since its inception in 2004, each spring Pictoplasma transforms BERLIN into the international meeting point for a diverse scene of artists and creatives, trailblazing the face of TOMORROW'S VISUAL CULTURE. 
The central CONFERENCE brings together 800 key players on a global scale and features 21+ lectures by forward thinking creatives. The accompanying ANIMATION SCREENINGS showcase 100 cutting edge short films, with most of the filmmakers present in Q&A rounds. The CHARACTER LAB offers hands-on workshops, immersive media demos and networking. And a string of exhibitions and art happenings in a GALLERY TOUR through the central Mitte district open up to the much wider FESTIVAL audience of 20.000.
FriendsWithYou at Pictoplasma NYC 2008
A second annual conference takes place later each year in NEW YORK. As part of the New York Illustration Week, the event features 8-12 lectures and is hosted by PARSONS SCHOOL FOR DESIGN. 
Pictoplasma NYC attracts 500+ professional attendees and acts as a unique place for the US scene to network.
Pictoplasma Academy Alumni 2013
As the educational counterpart to the Conference, each fall the PICTOPLASMA ACADEMY invites a selected group of international graduate students and young professionals to kick-start their careers as character designers in close collaboration with industry leading artists, filmmakers and producers. 

The 8-day intensive course is supervised and led by a team of internationally ACCLAIMED ARTISTS and professionals, who pass on their skills in insightful lectures and hands-on workshops right across the media spectrum.
As part of the Academy the alumni get to present their talent to an interested audience of character fans and professionals in a central GROUP EXHIBITION within the following year's Pictoplasma Festival.
Pictoplasma Exhibition at MARCO, Museo de Arte Contemporáneo Monterrey, Mexico
Curated GROUP SHOWS and IMMERSIVE INSTALLATIONS at prestigious international art institutions such as Haus der Kulturen der Welt Berlin, La Gaîté lyrique Paris or MARCO, Museo de Arte Contemporáneo Monterrey, communicate the Avantgarde of visual culture to a broad audience, reaching more than 100.000 visitors to date.
Using accessible topics such as portraiture or advertising mascots as the starting point, Pictoplasma reaches out and playfully introduces connections between appealing pop-art, post-digital theory and archetypical image creation.
Pictoplasma 'Character FaceOff' Call for Entries 
PICTOPLASMA
CHARACTER
DESIGN
COMMUNITY
With a fast growing ONLINE fanbase, the project is a vivid network of thousands of illustrators, artists, designers and fans from round the world. 
Regular open CALLS FOR ENTRIES, ranging from thematic illustration projects to animation collaborations, make the project participatory, and enhance the international exchange of ideas and creativity.
With ten thousands of characters collected over the past years, Pictoplasma overlooks a unique, extensive ARCHIVE and has recently launched PICTOFOLIO.COM as a new social network and online community for international creators to share their work.
Showcasing the latest developments and tendencies in contemporary character design and enjoying cult status amongst collectors and fans, Pictoplasma's source books for designers, illustrators, connoisseurs and the creatively curious are distributed worldwide, with total sales adding up to more than 150.000 copies over the past decade.
Missing Link Solace Installation for Casa Encendida
Over the years, brands have turned to Pictoplasma for support on their character based projects, be it communication companies such as Nokia for the launch of their N8 mobile phone, or apparel firms such as Japanese Uniqlo for their introduction to the German market. Nike collaborated with Pictoplasma to develop a unique character to serve as recognizable trans-media identity from graphics to costumes, promoting the relaunch of their Air Max 360. In 2017, Adobe Project 1324 teamed up with Pictoplasma to launch artistic challenges for emerging talents.