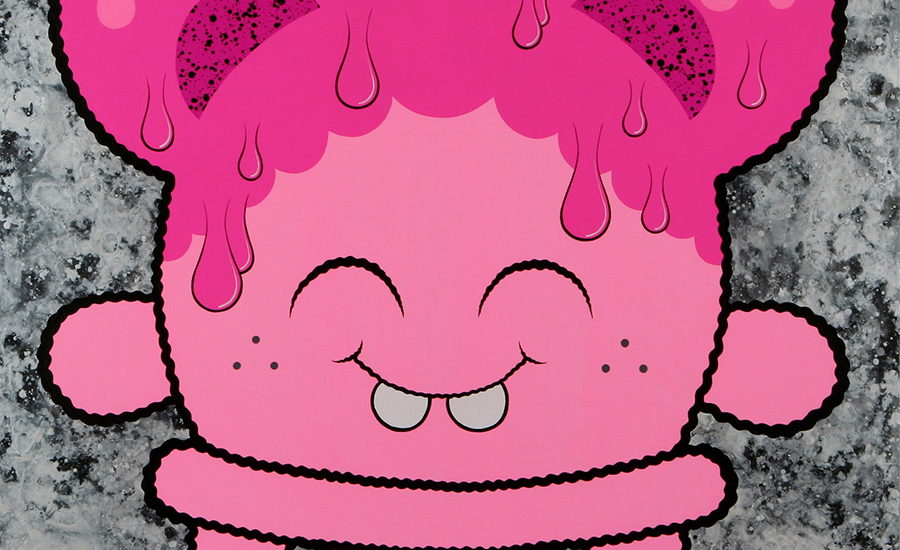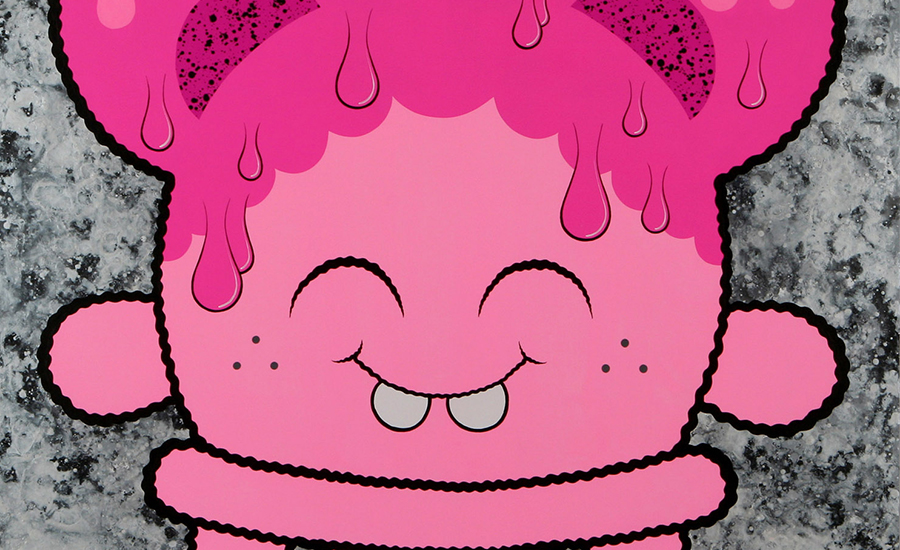 The work of Buff Monster is characterised by happy, typographic characters living in bubbly landscapes. Starting to make a name for himself by posting thousands of hand-silkscreened posters across Los Angeles, he is renowned for his meticulously executed paintings and diverse commercial products. With his Melty Misfits characters, based on ice cream cones, he creates narratives that reference art history.
Pictoplasma talked to them in 2013 about icons in street art, merchandise, and the melting Renaissance.
More
RENAISSANCE ICE CREAM MAN, 2013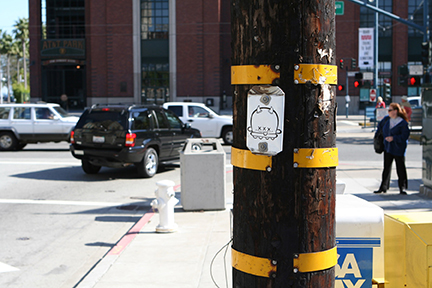 Pictoplasma: You started with a simple character, the Buff Monster. Can you explain what this character stands for? What inspired you to introduce a character as a logo, without attaching a slogan or a message to it?
Buff Monster: I really wanted to come up with a simple character that I could paint or otherwise bring out into the world, a character that could have endless variations. When I first arrived at the basic shape, I drew hundreds of different versions. Many of the drawings just seemed different for the sake of being different, so I started to focus on the ones that had the most character or energy. Although some people think he's a toaster or a breast, I have always thought of him as his own thing.
The Buff Monster became iconic as street art. You were painting murals and making wallpaper, but you also started nailing empty, flattened cans to the wall.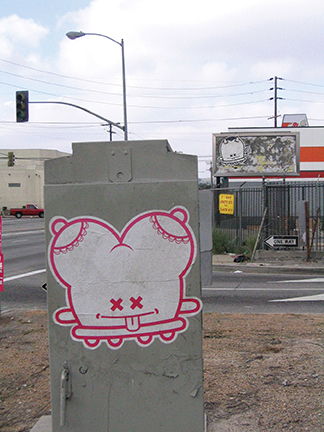 This was actually how the Buff Monster characters were originally released into the world. Having painted graffiti and having done some wheatpasting, I was exploring ways to create work in the street that could be more permanent. At the time, I figured that if I took flattened spray cans and drew on them with permanent ink, and then nailed them to the wall, that would be pretty close to permanent, but it didn't really work out that way. I only achieved permanence many years later, when the Bristol City Museum bought a painting of mine for their permanent collection.
How do you see the relationship between street art and advertising in public spaces? Can street art compete with the big budgets and impact of advertising? Does it want to? Does it have to?
I never think about advertising or about how street art should differ from it. To me, advertising is the status quo, the predictable, constant white noise in our visual landscape. Street art is the beautiful agitator. It's what really captures my attention. Street art always stands out.
Besides painting on walls and canvasses, you are very interested in merchandise and toys. What inspires you to think of the character as a product, altering the role of the mascot to represent another product?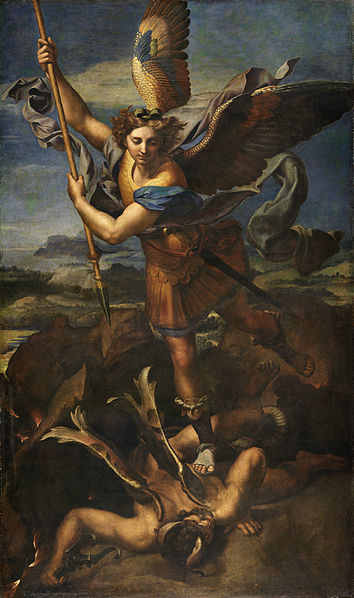 I love painting and looking at paintings. I love art and art history. It's great to look into these imaginary worlds and see who lives there, but you can't actually hold these characters or play with them unless you make them as toys. So, even though I don't really make toys to be played with, I do love holding them in my hands and sharing my life with these little guys. I'm actually working on self-producing my first resin and vinyl toys right now. It's really great to be in control of the creative process and the production of these little guys. I love working with sculptors, making sure that every detail is perfect, working on the art for the packaging, coming up with the colours, and deciding how to paint them. When all is done, I like offering an affordable art item that will make people happy.
You recently introduced the Melty Misfits, a visual remix of ice cream cones. The art you build around these characters is more illustrative, more narrative, and less abstract than before. What prompted this change?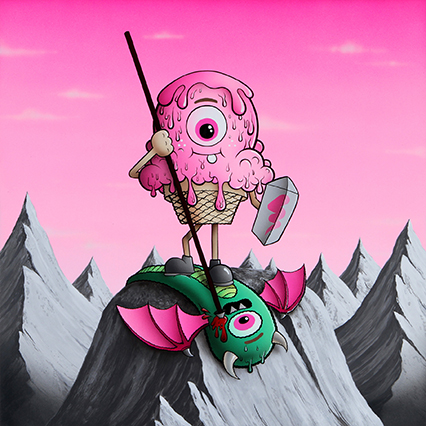 I guess it's just me growing as an artist. I've always loved Renaissance paintings, but the type of paintings I had been doing previously didn't give me a way to reference them. So the Buff Monster character and the ice cream landscapes he lived in just evolved into this more defined ice cream character. These new characters are much more expressive and lend themselves to the sort of narrative situations you find in Renaissance paintings.

You reference art history in a very playful way. How do you see this within the context of digital culture—what some people call the age of remix—where original production has been superseded by cut and paste?
Naturally, I'm on my computer a lot. It helps me with my paintings: scanning drawings and printing them in larger sizes, but that's where it ends. All my paintings are made by hand and in real time, in the physical world. It annoys me that some people think that they are made digitally. It's also flattering in a way that my work looks so precise and clean that people think it's machine made, but on the other hand, it points to a sad state of affairs. It would take me a long time to learn whatever digital painting programs you need to make paintings like that. Plus, no matter how good I got, it would always be a losing man's game. As I've said, I love classical Renaissance paintings, and I also love how they were made, how they are displayed today, and how they live in our collective consciousness. They are the perfect blueprint for how to work, a time-tested standard to measure things against, and there is nothing digital about them.
Originally published in the "White Noise" catalogue
accompanying the Pictoplasma exhibition at La Casa Encendida, Madrid, 2013