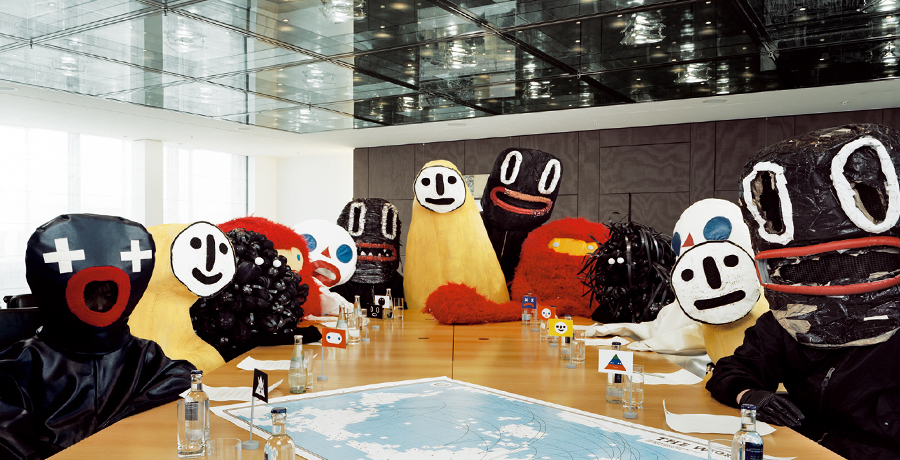 The Internet pages of Pictoplasma are offered by:
PICTOPLASMA
Denicke & Thaler GbR
Plantagenstrasse 31
13347 Berlin
Germany
VAT-ID: DE235150636
All of the content displayed on this site is protected by copyright and owned, registered or trademarked by its creators, licensors, content providers or Pictoplasma. All rights reserved. No unauthorised commercial or private reuse is permitted in print, web or any other form.
Copyright in this and any other websites operated by Pictoplasma is owned by Pictoplasma, Denicke & Thaler GbR. Copyright in the material contained on these websites is owned by Pictoplasma, Denicke & Thaler GbR or its licensors. Images displayed on this website are indexed with the name of the owner of the copyright. You are not permitted to copy, download, store in any media, transmit, adapt or change in any way any pages or materials contained on these websites with the exception of transient and incidental copies made in order for you to view these websites on-screen.
Pictoplasma and the Pictoplasma Logo are registered trademarks. You are not permitted to reproduce or use these trademarks for any purpose.
The information that you provide about yourself to Pictoplasma will only be used in accordance with our Privacy Policy.
Pictoplasma gives no representation or warranties express or implied about the operation or availability of this website nor about the information appearing on it. The availability of books and products and published prices are regularly updated, but are subject to amendment. Without prejudice to your statutory rights, Pictoplasma are not liable for loss or damage of any kind incurred by you as a result of you using this website or purchasing books or products advertised on it including direct, indirect or consequential loss or damage. Although we use our best endeavors to ensure that our website is free from infection by viruses or anything else that has contaminating or destructive properties, we cannot guarantee this, nor shall we be liable for it.
Links and Third Party Contents
Pictoplasma shall not be liable for the content of direct or indirect hypertext references to external Web pages ("Links") unless Pictoplasma adopts the content at it's own. Pictoplasma shall not be liable for content in guest books, discussion forums and chats ("Third Party Content"). Any of such Third Party Content does not necessarily represent the opinions, beliefs, or positions of Pictoplasma.
This website including its content, this Legal Notice the Privacy Policy, Terms and Conditions of Sale – Books and Goods and Terms and Conditions of Sale – Tickets to Events are governed by the laws of Germany.
The courts of Germany shall have exclusive jurisdiction over any dispute which may arise as a result of you using our websites or purchasing any of our books or products from it.
This Privacy Policy sets out the data processing practices carried out by Pictoplasma, Denicke & Thaler GbR in relation to information provided by you on this website. If you have any queries concerning your personal information or with regard to these practices please contact us at here.
Like most website operators, Pictoplasma collects non-personally-identifying information of the sort that web browsers and servers typically make available, such as the browser type, language preference, referring site, and the date and time of each visitor request. In order to do so, we use the open source software Piwik (Matomo.org) in a self hosted setup.

Our purpose in collecting non-personally identifying information is to better understand how you, our visitors use our website. Pictoplasma collects information on the use of the website by using session-cookies. Cookies are small text files stored on your data storage medium, which save the specific settings and data exchange via the browser. A cookie typically contains the name of the domain from which the cookie has come, information on the age of the cookie and alphanumeric identifiers. Session-cookies help Pictoplasma to enable the use of the website and improve services by making the services more user-friendly.

Additionally, we collect personal information from visitors to our website through the use of online forms (when a user registers for the conference or orders in our online webshop) and every time you send us an email via our contact form, in order for us to email you back. 
Use of personal information
We process personal information collected via this website to enable us to fulfil your orders and operate your account with us. We keep a copy of the information you provide to us for our internal purposes (for example to register you at the Conference).
If you would like to receive our newsletter, we need an email address and will do our best to verify that you are the owner of the email address provided, and that you agree to receive our newsletter.
We use the so-called double opt-in procedure to ensure that newsletters are sent in a consistent manner. This way the potential recipient can be included in a distribution list. After the registration, the user receives a confirmation email to confirm. The address is only actively included in the distribution list if the registration is confirmed.
We use this data exclusively for sending the requested newsletter.
Starting from March 2021 Mailjet is used as our newsletter software. Your data is transmitted to Mailjet, but they are prohibited from selling your data and from using it for purposes other than sending our newsletters. Mailjet is a certified French newsletter software provider, working in accordance with the European directive 95/46, as well as the German Federal Data Protection Act (BDSG).
When giving us permission to store your personal data and email address and to send you our newsletter, you can revoke this consent at any time via the unsubscribe link in each email.
We do not share any personal information with anyone. We only disclose personal information to sub-companies within our group and suppliers we engage to process data or perform services on our behalf.
We recognise the concern you may have regarding privacy of information. We take great care to protect information provided by you from theft and unauthorised inspection or use. Our sites use industry standard Secure Socket Layer (SSL) encryption to ensure the highest security for credit cards and personal details submitted to us.
Our site provides you with extremely many links to other sites, such as artists, designers and cultural venues. These sites are listed for your convenience and are not under our control. Other sites may not follow our Privacy Policy and, for example, may use cookies.
Given that the Internet is a global environment, using the Internet to collect and process personal data necessarily involves the transmission of data on an international basis. Therefore, by browsing this website and communicating electronically with us, you acknowledge and agree to our processing of personal data in this way.