Express your universal Feels—as animated reaction GIFs.
The current state of online communication leaves little room for any reasonable dialogue or exchange of ideas. More often than not, everyone immediately switches to ALL-CAPS, Whataboutism turns into a trolling avalanche of opinionated Internet acronyms, and the absence of empathy stands in direct relation to the lack of any sort of nonverbal cues such as intonation, attitude, rhythm or gesture, all of which we have successfully used to communicate offline for many millennia.
Maybe it's time to end the overheated conversation on our endless social media feeds in style, with an emotional, poignant, visual statement that perfectly sums it all up and leaves nothing more to say? What makes things a lot easier, is that there are basically only 8 primary emotional responses to choose from, one of which will definitely always do the job—at least according to Robert Plutchik's psychoevolutionary theory of emotion and his classification of their universal expressions: #anger, #fear, #sadness, #disgust, #surprise, #anticipation, #trust, or #joy.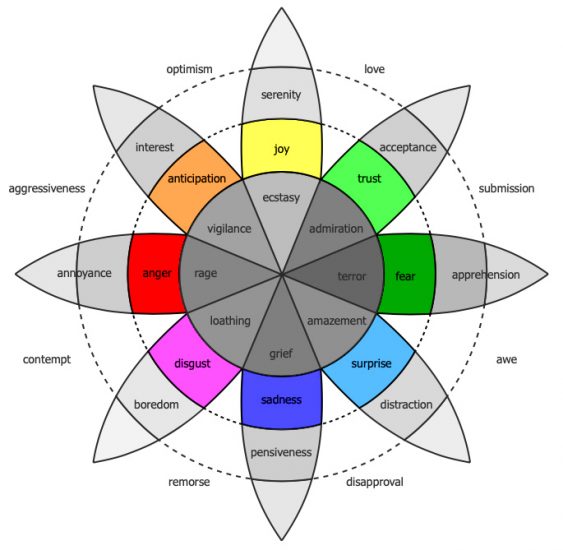 Robert Plutchik's wheel of emotions
As a proof of concept, Pictoplasma asks you to pick one of Plutchik's basic Emotions and turn it into an universal reaction GIF: a short looping animation that adds character to the discussion and can be posted as final response whenever words fail…
More on how to enter the #CharacterReactionGIF challenge on Pictofolio.com
From all submitted entries a jury will make a selection of approx. 30 works to be exhibited as a media installation at the upcoming Pictoplasma Berlin Festival 2019 in the central group show. Additionally, 3 winners will be announced, to receive a free Pictoplasma Berlin festival and conference pass, granting full access to all lectures, workshops, screenings, exhibitions, presentations and parties.
Deadline for submission is March 15, 2019
Don't HEADDESK. Show us your FEELS!