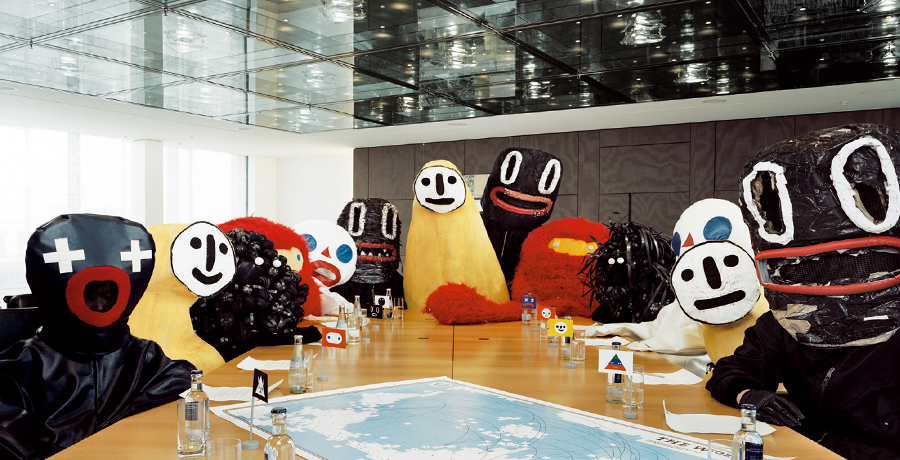 The Internet pages of Pictoplasma are offered by:
PICTOPLASMA
Denicke & Thaler GbR
Plantagenstrasse 31
13347 Berlin
Germany
VAT-ID: DE235150636
All of the content displayed on this site is protected by copyright and owned, registered or trademarked by its creators, licensors, content providers or Pictoplasma. All rights reserved. No unauthorised commercial or private reuse is permitted in print, web or any other form.
Copyright in this and any other websites operated by Pictoplasma is owned by Pictoplasma, Denicke & Thaler GbR. Copyright in the material contained on these websites is owned by Pictoplasma, Denicke & Thaler GbR or its licensors. Images displayed on this website are indexed with the name of the owner of the copyright. You are not permitted to copy, download, store in any media, transmit, adapt or change in any way any pages or materials contained on these websites with the exception of transient and incidental copies made in order for you to view these websites on-screen.
Pictoplasma and the Pictoplasma Logo are registered trademarks. You are not permitted to reproduce or use these trademarks for any purpose.
The information that you provide about yourself to Pictoplasma will only be used in accordance with our Privacy Policy.
Pictoplasma gives no representation or warranties express or implied about the operation or availability of this website nor about the information appearing on it. The availability of books and products and published prices are regularly updated, but are subject to amendment. Without prejudice to your statutory rights, Pictoplasma are not liable for loss or damage of any kind incurred by you as a result of you using this website or purchasing books or products advertised on it including direct, indirect or consequential loss or damage. Although we use our best endeavors to ensure that our website is free from infection by viruses or anything else that has contaminating or destructive properties, we cannot guarantee this, nor shall we be liable for it.
Links and Third Party Contents
Pictoplasma shall not be liable for the content of direct or indirect hypertext references to external Web pages ("Links") unless Pictoplasma adopts the content at it's own. Pictoplasma shall not be liable for content in guest books, discussion forums and chats ("Third Party Content"). Any of such Third Party Content does not necessarily represent the opinions, beliefs, or positions of Pictoplasma.
This website including its content, this Legal Notice the Privacy Policy, Terms and Conditions of Sale – Books and Goods and Terms and Conditions of Sale – Tickets to Events are governed by the laws of Germany.
The courts of Germany shall have exclusive jurisdiction over any dispute which may arise as a result of you using our websites or purchasing any of our books or products from it.
This Privacy Policy sets out the data processing practices carried out by Pictoplasma, Denicke & Thaler GbR in relation to information provided by you on this website. If you have any queries concerning your personal information or with regard to these practices please contact us at here.
We collect personal information from visitors to our website through the use of on-line forms and every time you e-mail us your details. We do not use cookies.
Use of personal information
We process personal information collected via this website to enable us to fulfil your orders and operate your account with us. We keep a copy of the information you provide to us for our own internal purposes.
If you subscribe to our Email-Newsletter, we will inform you about our activities.
We will only disclose personal information to other companies within our group of companies, successors in title to our business and suppliers we engage to process data or perform services on our behalf.
We recognise the concern you may have regarding privacy of information. We take great care to protect information provided by you from theft and unauthorised inspection or use. We use industry standard Secure Socket Layer (SSL) encryption to ensure the highest security for credit cards and personal details submitted to us.
Our site provides you with extremely many links to other sites, such as artists, designers and cultural venues. These sites are listed for your convenience and are not under our control. Other sites may not follow our Privacy Policy and, for example, may use cookies.
Given that the Internet is a global environment, using the Internet to collect and process personal data necessarily involves the transmission of data on an international basis. Therefore, by browsing this website and communicating electronically with us, you acknowledge and agree to our processing of personal data in this way.